Stone Mountain Park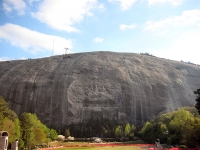 Stone Mountain © Jtesla16
Stone Mountain is situated about 20 minutes from Atlanta and features manmade and natural attractions. The best of these is the huge relief carving of the three Southern heroes of the Civil War, which has been etched into the mountainside. The images of Confederate President Jefferson Davis, Generals Robert E. Lee, and Thomas J. 'Stonewall' Jackson cover an area larger than a football field and are part of the largest relief sculpture in the world. Three sculptors worked in succession on the carving, beginning with Gutzon Borglum in 1915. He later became famed for his carvings at Mount Rushmore. Subsequently two other artists pursued the work that was completed finally in 1972. Visitors can either walk up the mountain or take the Skylift to the top to see the breathtaking view over Atlanta and the Appalachian Mountains. Stone Mountain also features a restored Antebellum Plantation featuring a colonial mansion, slave cabins, coach houses, and barns. The park contains several lakes and hiking trails, a wildlife reserve, and petting zoo.
Address: 1000 Robert E. Lee Boulevard, Stone Mountain
Website: www.stonemountainpark.com
Telephone: (800) 401 2407
Opening times: Daily from 10am; closing hours vary according to the season and attraction. Summit Skyride opens daily from 10am to 5pm, with extended hours in summer and on holidays
Admission: Various packages available. A one-day, adventure pass costs $31.95 Vehicle entry to the park is $15.