Empire State Building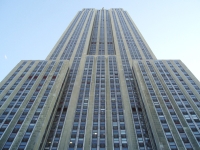 Empire State Building, NYC © BigMac
The Empire State Building in New York is an iconic landmark in the sprawling Manhattan cityscape. Completed in 1931, it stretches 102 storeys into the sky and was considered the tallest building between 1931 and 1970. Today, it is only the 28th-tallest building in the world yet still retains much of its dramatic grandeur and presence. One of the most beloved activities is embarking on the journey to the top floor's observation deck, providing views across the entire city. It's best to visit between 8am and 11am, avoiding the scores of daily visitors. Free multimedia tours are downloaded with every admission.
Address: 350 Fifth Avenue, between 33rd and 34th Streets, Manhattan
Website: www.esbnyc.com
Transport: Subway B, D or F to 34th Street
Opening times: Observatory: daily 8am-2am; last elevator at 1.15am.
Admission: Top Deck: $57 (adults), $51 (children 6-12), Main Deck: $37 (adults), $31 (children 6-12). Concessions and special ticket deals available.