The Guggenheim Museum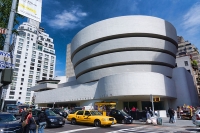 Guggenheim Museum, NYC © Jean-Christophe Benoist
Designed by US architect Frank Lloyd Wright, the Guggenheim was built in 1959 and is an icon of Modernist architecture specifically created to showcase the modern art within. Featuring a highly celebrated collection of late 19th and 20th-century artworks, as well as touring exhibitions. Beneath a glass dome, a quarter mile ramp spirals down the inside of the building, past a collection including pieces by Pissarro, Kandinsky, Klee, Picasso, Toulouse-Lautrec, Cézanne, Mapplethorpe and Gober.
Address: 1071 Fifth Avenue, at 89th Street
Website: www.guggenheim.org
Transport: Subway 4, 5 or 6 to 86th Street; bus M1, M2, M3, or M4 on Madison or Fifth Avenue
Opening times: Sunday to Friday 10am - 5.45pm; Saturday 10am - 7.45pm; closed Thursdays and Christmas Day.
Admission: $25 for adults. Concessions available. Rates differ for special exhibitions.