Metropolitan Museum of Art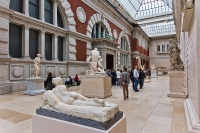 Metropolitan Museum, NYC © Jean-Christophe Benoist
The Metropolitan Museum, affectionately known as the Met, possesses one of the greatest and largest art collections in the world. Banners above the Met's Fifth Avenue entrance herald the current attractions at this cherished New York institution. There are always temporary exhibitions from around the world alongside the impressive permanent collection. Highlights are numerous, with American collectors having the foresight and cash to buy up a large number of Impressionist and Post-Impressionist masterpieces from Europe at the end of the 19th century. The art collection at the Met now contains more than two million works of art from across the planet, from ancient worlds through to modern times. Some notable works are present from such greats as Van Gogh, Renoir, Monet, and Cézanne, rivalling any art collection on earth.
Address: 1000 Fifth Avenue, at 82nd Street
Website: www.metmuseum.org
Opening times: Sunday to Thursday 10am - 5.30pm; Friday and Saturday 10am - 9pm.
Admission: Admission costs are voluntary and made as a donation. Recommended admission is about $25 for adults.