Spanish Monastery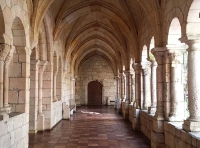 Monastery of St. Bernard de Clairvaux © Daderot
Miami boasts the oldest building in the Western Hemisphere, but cannot claim to have actually built it. Dating from 1141, the Monastery of St. Bernard de Clairvaux in North Miami Beach is a hugely popular tourist attraction. The monastery stood originally in Segovia in Spain, but in the early 1950s the medieval building was bought by newspaper magnate William Randolph Hearst, disassembled, shipped piece by peice to Miami, and rebuilt on its present site. Time Magazine called the project the 'biggest jigsaw puzzle in history'. The fascinating medieval complex is a joy to explore, and the fact that it seems out of place in Florida only makes it more magical. Guided tours are available for groups of 15 or more.
Address: 16711 West Dixie Highway
E-mail: spanishmonastery@bellsouth.net
Website: www.spanishmonastery.com
Telephone: (305) 945 1461
Opening times: Monday to Saturday 10am-4.30pm; Sunday 11am-4.30pm.
Admission: $10 adults, $5 children, students, and seniors.