Victoria Peak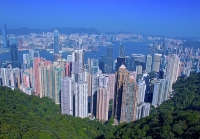 Victoria Peak © Bevis Chin
Victoria Peak is Hong Kong's number one tourist attraction and its popularity is unwavering. The funicular railway has steadily made its way up the mountain since 1888 and the route is extremely steep and rather thrilling. More energetic and athletic travellers can scale the real peak extending 140m (459ft) above the tram terminus. The summit's iconic Peak Tower houses numerous restaurants and shops, while Sky Terrace 428 offers Hong Kong's best skyline panorama. A lot of people choose to go up Victoria Peak at night when the city lights are at their most magical.
Website: www.thepeak.com.hk
Transport: Take the Peak Tram from Garden Road or bus 15C. There is also a shuttle bus (daily 9am to 7pm) that departs from Star Ferry Terminal.
Opening times: The Peak Tram runs every day, including Sundays and public holidays, between 7am and midnight. The tram departs every 10-15 minutes.
Admission: HKD 52 (adults), HKD 23 (children); other concessions available