Golden Gate Bridge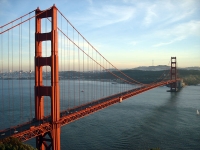 Golden Gate Bridge © Rich Niewiroski Jr.
The rust-coloured towers, graceful suspension and supportive cables of the Golden Gate Bridge make this famous symbol of San Francisco the most photographed bridge in the world, and visible from almost any high point in the city, although it is often shrouded in rolling fog. Spanning the two-mile (3km) mouth of the bay, it was the longest suspension bridge in the world at the time of its completion in 1937 and was built to withstand winds of more than 100 mph (161km per hour). During high winds it can sway up to 27 feet (8m) in each direction. One of the great engineering accomplishments of the 20th century, the bridge claims to have used enough wire in its construction to stretch around the earth several times. Walking across the bridge, under the towers that loom 65 storeys above the water, is one of the best ways to experience the immensity of the structure and affords beautiful views of the San Francisco skyline, the bay and its islands.
Address: Highway 101 North
Website: www.goldengatebridge.org
Telephone: (415) 921 5858
Transport: Golden Gate Transit buses towards Marin County and San Francisco Financial District and Civic Centre as well as Muni buses 28 and 76 stop at the bridge toll plaza.
Opening times: Access for pedestrians is on the east sidewalk during daylight hours only from sunrise to sunset (April to October 5am-9pm, November to March 5am-6:30pm). The bridge is open 24 hours for motorists.
Admission: $8 toll is collected from cars when driving south towards the city, the toll is reduced when carpooling.