Cable Cars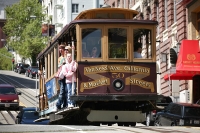 Cable car in San Francisco © Daniel Schwen
One of San Francisco's most endearing attractions is its network of 130-year-old cable cars, the only mobile National Historic Landmark in the country, and the world's only surviving system of cable cars. Many cities adopted the system, but all have since been replaced by more practical means of transport. The perpetuation of these clanking museum pieces was due to determination by the city's residents and today they remain at the heart of the city's character. It is an experience to ride up and down the steep gradients of the hills, hanging on while the brass bell clangs, the conductor jingles his coins and the familiar clanking of the cables pulls the car at a constant 9.5 miles (15km) per hour.
Many people have difficulty believing that these six-tonne cars can work without engines and the San Francisco Cable Car Museum affords visitors a closer look at the cable-winding machinery, and the 'home base' where cars are reeled in and out on 11 miles (17km) of steel cable. The museum also houses some interesting sights, including the first cable car (1873) and scale models of different types of cable cars that were once in use in the city. The idea of the cable car system was conceived by engineer Andrew Hallidie. After watching the uphill struggle of laden horse-drawn carts, he was determined to find a kinder and more efficient means of transportation, which he produced four years later.
Address: 1201 Mason Street (Cable Car Barn and Powerhouse)
E-mail: comments@sfcablecar.com
Website: www.sfcablecar.com
Opening times: Daily from 10am-5pm (until 6pm from April to October).
Admission: $7 per ride, each way. Day passports for the cable cars, buses and streetcars are also available. Entrance to the museum is free.