Hollywood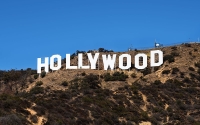 Hollywood Sign © Thomas Wolf
Los Angeles is the film and entertainment capital of the world and the name 'Hollywood' is the embodiment of glamour, success and money; the place where films are made, television shows are recorded and stars take up residence. The famous Hollywood sign on the hills above the city has become the enduring symbol of the movie industry and of Los Angeles itself - the 50-foot-high (15m) white letters can be seen from miles away. The historic heart of the movie industry is centred on Hollywood Boulevard where millions of visitors flock to see landmark attractions and museums.
The impressive Mann's (Grauman's) Chinese Theatre is famous for its courtyard where over 200 stars like Elizabeth Taylor, Paul Newman, Clint Eastwood and Frank Sinatra have set their signatures and imprints of their hands or feet in cement. For many years the theatre has been the spot for movie premieres and is modelled on a Chinese temple with columns, dragons and an ornate interior. Passing in front of the theatre is the mile-long Walk of Fame, the world-famous sidewalk embedded with the names of legendary television, film, radio, theatre and recording greats engraved within pink granite stars. More than 2,500 celebrities are honoured here, including Elvis Presley, Charlie Chapman, Marilyn Monroe and Michael Jackson.
The cylindrical Capitol Records Tower is one of the most recognisable buildings in the city and is supposed to resemble a 12-storey stack of records with a needle on top that blinks out 'h-o-l-l-y-w-o-o-d' in Morse code. Other attractions include the Kodak Theatre (designed to host the Academy Awards) and the Hollywood Guinness World Records Museum, as well as the Hollywood Wax Museum and the Ripley's 'Believe It or Not!' Museum.
Website: www.hollywoodchamber.net