Balboa Park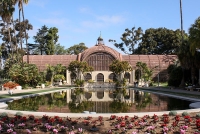 Balboa Park Botanical Building © Bernard Gagnon
Balboa Park contains one of the biggest groups of museums in the USA, many of them housed in magnificent Spanish-Mexican buildings, in addition to more than 85 Performing Arts and International Culture Organisations including theatres like the internationally acclaimed Old Globe Theatre, and several art galleries. The park also houses the world-renowned San Diego Zoo with more than 800 species in spacious re-created natural habitats. The oldest and most famous of the 14 museums in Balboa Park is the Reuben H Fleet Science Centre with a big screen Omnimax Theatre and virtual reality simulator that transports visitors to outer space.
Other museums cover a wide range of interests, including cars and motorbikes, anthropology, various forms of art, and natural history. The Spanish Village Art Centre provides a traditional ancient village setting for viewing sculpture, painting, glassblowing and pottery performed by crafts people in classic tiled-roofed studios. The park has numerous features and facilities including golf courses, hiking and cycling trails, promenades, extensive landscaped gardens and horticultural treasures, a Japanese Friendship Garden, fountains and restaurants, a pavilion for Sunday afternoon concerts and the world's largest outdoor organ.
Address: 1549 El Prado
E-mail: info@balboapark.org
Website: www.balboapark.org
Telephone: (619) 239 0512
Transport: Buses 7, 15 or 20 from downtown. There is free tram transportation within the park.
Opening times: The visitor centre is open daily 9:30am-4:30pm (5pm in summer). Some museums are closed on Mondays, but the zoo, science centre and Spanish Village Art Centre are open daily.
Admission: Entrance to the park itself is free, as is the Botanical Building and most of the gardens. Visitors can purchase a variety of tickets/passes that include entrance to selected museums. All-inclusive passes are also available.