Downtown San Diego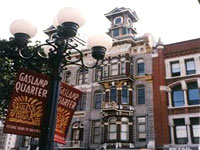 Gaslamp Quarter © Judith Duk
The bustling downtown area of San Diego makes for a compact hub of activity and is an easy walk. It includes the business district, the historic Gaslamp Quarter, the post-modern Horton Plaza mall famed for its pastel colours, and the waterfront Embarcadero with boardwalk shops, museums and restaurants. The first commercial district in San Diego; the Gaslamp Quarter, was and is now a trendy 16-block area of historic buildings and old-fashioned wrought-iron street lamps, antique stores, art galleries, shopping centres, restaurants and jazz bars, and chic coffee houses.
Well worth the visit is the Horton Grand, which is a reconstruction of a 19th-century hotel with Victorian décor and costumes. One of California's most important centres for the performing and visual arts; San Diego is celebrated for its artistic and musical heritage annually with the opening of artists' studios and galleries to the public, as well as its numerous Blues and Jazz festivals. Summer evenings are popular and considered to be the liveliest time to visit, when people come out in their droves to frequent the many outdoor tables.
ars and clubs and wander the streets. However visits after dark should be confined to the populated, well-lit areas.