Coronado Island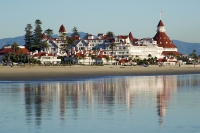 Coronado Hotel © Dirk Hansen
The isthmus of Coronado contains an upmarket resort community with several beaches, including the award-winning Silver Strand State Beach, hotels, outdoor dining, boutiques and the Museum of History and Art dedicated to the history of Coronado. A naval station occupies the western end of the island. The island is of little interest except for the historic Hotel del Coronado around which the community grew.
'The Del' is a much-loved San Diego institution, and a National Historic Landmark dating back to 1888. Its distinctive Victorian turrets, conical towers, balconies and curious architecture have served as a filming location for many years, and a stage for political meetings and social happenings. Its glamorous old-world ambience with polished oak pillars and arched ceilings has hosted guests like Marilyn Monroe, Frank Sinatra and a number of presidents. Guided tours are available, or visitors can choose to dine and dance here, stay as a guest or simply wander through the grounds and look at its historic photo gallery. Visible across the bay is Point Loma where a statue of Juan Rodriguez Cabrillo commemorates the landing of the first European in 1542.
Address: 1100 Orange Avenue, Coronado
E-mail: vcmgr@coronadovisitorcenter.com
Website: www.coronadovisitorcenter.com
Telephone: (619) 437 8788
Transport: A ferry runs from San Diego's Broadway Pier to Coronado.
Opening times: The visitors centre is open Monday to Friday 9am-5pm, weekends 10am-5pm.