Death Valley National Park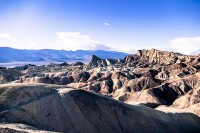 Death Valley National Park © specchio.nero
The name itself suggests images of all that is harsh, inhospitable and hellish, and it is not by chance that many of the park's features have names like Coffin Peak, the Funeral Mountains, Dante's View, the Devil's Golf Course and Furnace Creek. These are the topographical features of a waterless desert landscape that is as hot as Hades. Average summer temperatures are 112°F (44°C); eggs can be fried on the baking ground and the hottest temperature in the world was recorded here at 134°F (56.7°C) - in the shade. Yet despite this hostile wilderness, it is a heavily visited tourist destination with spectacular desert scenery, interesting wildlife, remarkable geological formations and sites of historical interest.
There are miles of rippled sand dunes, the sheer black walls with ancient petroglyphs of Marble Canyon and incredible views from Zabriskie Point and Dante's View. Amazing kaleidoscopes can be found at Artist's Palette where the intensely coloured hillside has been eroded into a tableau of red, gold, black and green, and the mineral-rich waters of the saline Badwater Lake that evaporate into sharp crystal formations. At the Devil's Golf Course, the saltpan on the valley floor is littered with lumps of crystallised salt. In the centre the pan drops to almost 300ft (91m) below sea level, the lowest point in the western hemisphere. Hoards of people wait to tour the Spanish-Moorish luxury of Scotty's Castle, a bizarre mansion with indoor waterfalls and a remote-controlled piano player that was built by 'Death Valley Scotty' in the 1920's for Albert Johnson, a Chicago insurance tycoon. Unfortunately, Scotty's Castle is closed until 2020 due to flood damage.
Although winter is the peak season, many tourists are beginning to tour Death Valley from the comfort of air-conditioned cars, visiting sites at sunrise or sunset, booking into comfortable hotel accommodation and cooling off in the pool at Stovepipe Wells Village.
Address: Death Valley National Park, Death Valley, CA.
Website: www.nps.gov/deva
Telephone: (760) 786 3280
Transport: There is no public transport to the park so a private vehicle is necessary.
Opening times: The park is open all year round. Furnace Creek Visitor Center is open daily 8am-5pm. Please note: Scotty's Castle is closed until 2020 due to flood damage.
Admission: $25 per vehicle including all individuals within, or $12 per individual travelling on foot or by bicycle, valid for seven days.