French Quarter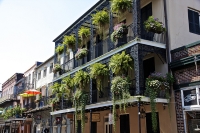 French Quarter © Michael Bentley
Regarded as the heart and soul of New Orleans, the French Quarter is the historic part of town covering about 90 square blocks radiating out from Chartres Street and Jackson Square. Established in 178, the French Quarter is also known as the Vieux Carre.
Originally a French military outpost, which was later taken over by the Spanish, it gradually developed into a cultural hub incorporating slaves, pirates, mercenaries, call-girls and various freemen of every colour and creed.
Today, the area looks and feels much as it did before Hurricane Katrina, with its wrought-iron railings and tall doorways. There's a thrilling offering of nightclubs, bars, live music venues, Cajun-seafood restaurants and all sorts of shops.
By day it is one of the best people-watching spots in the world and is the focus for visitors to New Orleans. By night, areas such as the famous Bourbon Street become giant street parties, with a world-class dining districts backed by a soundtrack of jazz music.
Website: www.frenchquarter.com