Cambridge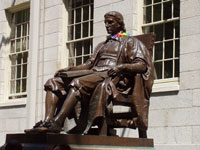 Statue of John Harvard, Harvard Yard © Jessica Williams
Just across the Charles River from Boston, Cambridge is actually a city in its own right. But the two cities are so closely associated that many people believe them to be one and the same. Cambridge is home to two of the most prestigious centres for education in the country, Harvard University and the Massachusetts Institute of Technology. It has a young and vibrant atmosphere due to the 30,000 university students from around the world that reside and study here. The city centres on Harvard Square, a gathering spot that reflects the international culture of its learning community as well as the influence of its students, residents, and business owners. Surrounding the square and lining the streets that spread out from Harvard Square are dozens of bookstores and music shops, cafes, coffee houses, and restaurants. Harvard Square, occupied on one side by the university, is a lively mixture of students and professors, buskers, evangelists, and political campaigners, and is a great place to have a cup of coffee, watch the activity, and soak up the atmosphere.
Website: www.harvardsquare.com
Transport: The subway Red Line to Harvard Square from Boston Common's Park Street Station.