Roswell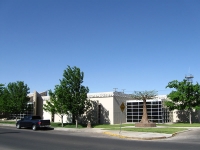 Roswell © AllenS
The town of Roswell in south-east New Mexico has become the focus of UFO and alien hunters from all over the world every. This is ever since the 'Roswell Incident' in 1947, when an alien craft purportedly crashed near the town leaving surviving extra-terrestrials. Conspiracy theorists believe government authorities deliberately covered up the crash.
The incident is highlighted at the International UFO Museum and Research Center in Main Street, along with a large collection of UFO memorabilia and artefacts. The museum also features a worldwide UFO sighting map and a comprehensive library. Roswell itself is just as UFO-crazy, and you can eat at UFO-themed cafes, and buy just about anything you can think of with an alien on it.
Address: 114 North Main Street, Roswell
Website: www.roswellufomuseum.com
Telephone: (800) 822 3545
Opening times: Museum: daily 9am-5pm.
Admission: Museum: $5 adults, $2 children 5-15.