Independence National Historical Park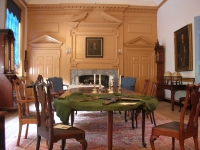 Governor's Council Chamber © Artico2
On 8 July 1776, the Liberty Bell at Independence Hall summoned citizens to hear the first reading of the Declaration of the Independence. Today, the building stands proudly and is revered as the birthplace of the American nation.
The Independence National Historical Park is an eight-block neighbourhood in the very centre of old Philadelphia. The Liberty Bell itself is on display in a pavilion in Market Street between 5th and 6th Street.
Originally built as the Pennsylvania State House in 1732, Independence Hall on Chestnut Street is now famous for being where the Declaration of Independence and later the Constitution of the United States were ratified.
Historically significant buildings and museums pack out the rest of the 34 acre park, interpreting the events and lives of main figures involved in Philadelphia's years as the capital of the USA from 1790 and 1800. These include former presidents George Washington and John Adams.
About 20 buildings are open to the public daily, with times varying according to season. Advance tickets are required for Independence Hall, obtainable from the adjacent Visitors Centre or bookable in advance through the National Parks Service.
Website: www.nps.gov/inde