Washington Monument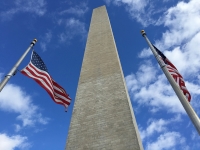 Washington Monument © Jeffrey
In recognition of his leadership in the fight for American independence, the Washington Monument was built to commemorate the first president of the United States, George Washington. The tallest structure in the city, the gleaming white obelisk offers 360-degree views of some of the most famous sights in the world, including the White House, the Capitol Building and the Lincoln Memorial. The monument, a 555-foot (169m) marble spire, stood uncompleted for 37 years and a change in the colour of stone halfway up marks the two building phases. Climbing its steps is prohibited but a free elevator conveys visitors to the gallery that provides unparalleled views of Washington DC and across the Potomac River.
Address: 2 15th Street and Constitution Avenue, NW
Website: www.nps.gov/wamo
Telephone: (202) 426 6841
Transport: Smithsonian metro station
Opening times: Open daily 9am-10pm.
Admission: Although admission is free, a ticket is required to enter the monument and ascend to the top. Advance ticket reservations are subject to a small fee per booking.