National Gallery of Art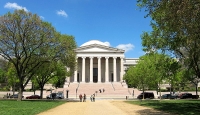 National Gallery of Art © AgnosticPreachersKid
Two buildings, the West and East Wings, make up the visually stunning National Gallery of Art that is the most popular art museum in North America. Together they house one of the world's leading collections of Western paintings, prints, photographs, graphics, and sculptures from the Middle Ages to the 21th century. Walking from the West Wing to the East provides a near chronological display of European art.
The West Wing, the original building, is a marble architectural work of art with a domed rotunda over a fountain, housing most of the permanent collection. The one hundred or so collection galleries display modern and contemporary art with masterpieces by famous artists arranged by nationality, including what is considered to be the finest Renaissance collection outside of Italy, as well as an outstanding Impressionist collection. The gallery's newer addition is the ultramodern East Wing, composed of two glass-walled triangles, and is devoted to 20th-century paintings and sculptures.
The National Gallery of Art Sculpture Garden is a large park outside the museum, which features a huge central fountain with some of the museum's permanent collection of sculptures on display.
Address: National Mall between 3rd and 9th, Constitution Avenue NW
Website: www.nga.gov
Telephone: (202) 737 4215
Transport: Smithsonian, Judiciary Square or National Archives/Navy Memorial metro stations
Opening times: Monday to Saturday 10am to 5pm, Sunday 11am to 6pm.
Admission: Free.