Pike Place Market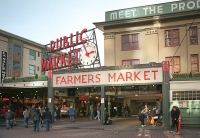 Pike Place Market © Daniel Schwen
Rachel, a giant piggy bank, stands guard over the Pike Place Farmer's Market in downtown Seattle, placed there to raise funds to preserve this National Historic District founded in 1907. The bustling market has provided the local people with producer-priced goods for decades, and continues to do so today as about 100 farmers and fishmongers tout their wares. The focus is on local and organic food. They have been joined by more than 150 local craftsmen and artists who have also set up shop here, along with street performers, dozens of restaurants, and numerous speciality shops.
The world's first Starbucks coffee shop opened here in 1971, and is still brewing up its famous beverage on the original site. At the north end of the market, Victor Steinbrueck Park provides a popular grassy place to sit in the sun and escape the milling crowds. Events are hosted at the market, such as the May Flower Fest Market, Sunset Supper at the Market, a Busker's Festival, and Arcade Lights: a Celebration of Artisan Food, Beer and Wine.
Address: First Avenue, between Pike and Pine Streets
Website: www.pikeplacemarket.org
Telephone: (206) 682 7453
Opening times: Open daily. Hours vary for different businesses, and Sundays are voluntary opening days so some shops may be closed.
Admission: Free