Seattle Art Museum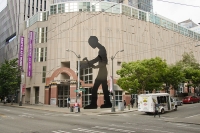 Seattle Art Museum © Natokh
Seattle's downtown Art Museum is landmarked by the animated thudding massive steel sculpture by Jonathon Borofsky called 'Hammering Man' that stands outside. Inside the remarkable building, designed by Robert Venturi, are a large range of exhibits covering European and American art, from ancient art through to a vast 20th-century collection devoted to Northwest contemporary art.
The museum has a focus on collecting and exhibiting art from around the world, covering many cultures and a great expanse of time, and trying to find and explore the connections between cultures and over time. Some of the permanent collections include textiles, porcelain, Native and Mesoamerican art, Decorative art, and Australian, Aboriginal and Oceanic Art. Currently the museum has over 23,000 pieces, with recent acquisitions including an untitled 1937 Morris Graves painting, Portrait of Bartolomeo Sirigatti by Francesco Traballesi, In the Well of the Wave of Kanagawa by Katsushika Hokusai, and more. Free guided tours of the different collections are offered.
A Seattle Asian Art Museum is affiliated to the original musuem and is located at 1400 East Prospect Street, filled with Asian art from as far back as the 2nd century, and the Olympic Sculpture Park is a permanent outdoor exhibition of sculptures, including Eye Bwnches I, Father and Son, Schubert Sonata and more.
Address: 1300 First Avenue
Website: www.seattleartmuseum.org
Telephone: (206) 654 3210
Transport: Metro bus
Opening times: Wednesday to Monday 10am-5pm; Thursdays 10am-5pm; closed Monday.
Admission: $20 adults, $13 youth 13-17, free for under 13; other concessions available. Special exhibition ticket prices vary.