Fuerteventura Oasis Park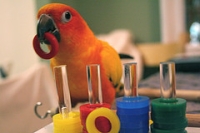 Parrot doing puzzles © Mphung
On the east coast of Fuerteventura, the little fishing village of La Lajita has been put on the tourist map because it offers one of the island's main attractions: the Oasis de Los Cammelos. Usually called the Fuerteventura Oasis Park, the zoo is home to more than 3,000 animals, including giraffes, camels, hippos, elephants, flamingos, lemurs, and more. The park is big and features nature trails winding around the enclosures. The only botanical garden in Fuerteventura, it showcases indigenous and tropical flora. There are parrot shows, birds of prey shows, sea lion shows, and reptile shows, as well as horse rides and camel safaris. The lemurs are a highlight and, for a little extra, visitors can stroll through their enclosure and interact with the friendly animals. It is possible to buy food to give the various animals at the entrance. There is a petting zoo and playground area designed for small children too. Visitors can relax under the palm trees at the zoo's bar or try out one of the restaurants. Every Sunday there is a fresh produce and craft market at the park.
Address: Ctra. General de Jardia s/n Lalita Pajara.
E-mail: reservas@lajitaoasispark.com
Website: www.fuerteventuraoasispark.com/leng.html
Telephone: +34 902 400 434
Transport: Buses 1, 5 and 25 run from Tarajejo, and buses 1, 6 and 10 run from Corralejo.
Opening times: Open daily from 9am to 6pm.
Admission: €25 (adults); €12.50 (children aged 3 to 11). Some activities cost extra.