Grouse Mountain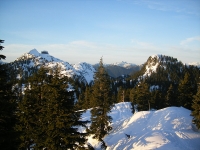 Grouse Mountain © Paul Williams
On Vancouver's north shore just a 15-minute drive from the downtown area across the Lions Gate Bridge, waits the year-round mountaintop playground of Grouse Mountain. Ascending the mountain is part of the adventure in the Super Skyride, a passenger tram that glides up the steep mountain slopes carrying visitors up 3,700ft (1,100m) above sea level in just eight minutes.
At the top, apart from magical views of the city below, is the Theatre in the Sky, which offers a high-tech presentation about Vancouver. There is also a cedar longhouse called the Hiwus Feasthouse that offers the chance to experience native West Coast culture with displays of dancing, storytelling and native cuisine.
There are hiking trails up the side of Grouse Mountain and on the east side one of them features the Grouse Grind, which is billed as one of the world's biggest stair-climbs. Mountain biking, skiing and snowboarding are also popular pursuits here.
Address: 6400 Nancy Greene Way, North Vancouver
Website: www.grousemountain.com