Aruba Beaches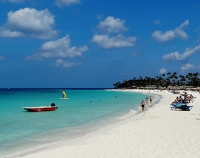 Aruba beach © Roel van Deursen
Just north of the capital, Aruba's best stretch of beaches extends four miles (7km) between Eagle Beach and Palm Beach. The endless golden sand and crystal-clear shallow water has attracted crowds and with them the high-rise, luxury hotel complexes that line the beach.
There is no shortage of bars and restaurants to choose from and beachgoers are able to hire all sorts of toys including kayaks, windsurfers, snorkelling gear and catamarans. North of Palm Beach there many colourful reefs and shipwrecks to entice divers and snorkellers. Some shallower reefs are so close to the shore that it's possible to walk out into waist-high water to look at the sponges and coral. Diving trips, windsurfing and sailing lessons can be arranged through most hotels. Tubing, parasailing and banana-boating are also available, and very popular.
For those looking to take a break from the beach, the nearby Butterfly Farm is a fun outing. There's also the Bubali Bird Sanctuary, a small marshland where visitors can view hundreds of species of migratory waterfowl including coots, cormorants, terns and herons. A favourite place to enjoy the sunset is at the restaurant by the California lighthouse on the northern tip of the island. The lighthouse was built after the British steamship, the California, which ran aground here in 1891.