Arikok National Park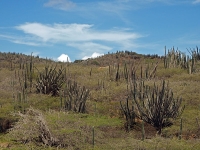 Arikok National Park © $Mathe94$
Arikok National Park encompasses a significant chunk of the interior and a long stretch of the northern coast. The park has miles of well-marked hiking trails and this, for most, is the best way to discover it.
Between the towering cacti and the contorted divi-divi trees can be found the best preserved Indian cave paintings on the island, deserted plantation houses, and the ruins of an old gold mine. There are also two ancient Aruban adobe huts, made entirely from materials found on the island, that have been carefully restored using traditional building techniques. The huts give a fascinating insight into the life of Arubans before they were able to import many useful materials into the country.
Within the park is Mount Jamanota, which at 620ft (188m) is Aruba's biggest hill, as well as the only slightly less high Arikok Hill. From the top of either hill one can enjoy good views of the island and on a clear day one can see across to Venezuela. At the southern reaches of the park are the Guadirkiri Caves and the Tunnel of Love. Legend has it that the headstrong daughter of an Indian Chief was trapped here with an unsuitable suitor and left to perish but their love-boosted spirits shot through the roof of the cave and into heaven.
Website: www.arubanationalpark.org