San Nicolaas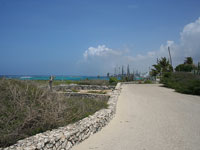 San Nicolas in Aruba © Ian Mackenzie
San Nicolaas is the industrial centre of Aruba, and the island's oldest and largest town. Until the late 19th century it was a small fishing village but all this changed with the mining of phosphate on the island, and more recently the discovery of oil off the coast of Venezuela. The town provides a glimpse of old British-Caribbean charm and contains a handful of restaurants and shops, most notable in a section of the town's main road that has been turned into a promenade.
There are a few popular beaches to the east of the town that offer good swimming and snorkelling opportunities and are suitable for families. The main natural attraction in San Nicolaas is the natural bridge, carved out of rock by wind and water, that can be found in nearby Seroe Colorado.
Charlie's Bar is another popular attraction. Established in 1941, local lore has it that the bar used to serve rowdy sailors and oil refinery workers. Over the years, the bar's patrons have often left little keepsakes there - a licence plate, a shirt, a hat, a frisbee, and much more. All of these items now hang from the bar's ceiling, giving the space an eclectic feel. The bar has been featured in two recent novels by the American author Daniel Putkowski.