Museum of National Antiquities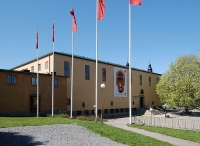 Museum of National Antiquities, Stockholm © FriskoKry
Sweden's history from prehistoric times to the present day is fascinatingly laid out in the Museum of National Antiquities in Stockholm, often just called the Swedish History Museum. It contains a hoard of archaeological artefacts and treasures, including an impressive collection of gold objects recovered from the tombs and treasure caches of the Vikings (in the basement Gold Room), going back all the way to the Stone Age. The museum's most prized possession dates from the Middle Ages: the splendid gold reliquary, set with precious stones, which contained the skull of Saint Elisabeth of Thuringia. The museum has a gift shop and cafe with plenty of seating. Photography is allowed in the permanent exhibitions but tripods are not permitted. Free audio guides in English, German, French, Spanish, and a number of other languages can be downloaded on your phone or borrowed from the front desk. Guided tours are also available. The displays are well laid out and there is sufficient information for English speakers, but the audio guide greatly enriches the experience. This world-class museum can occupy visitors for a few hours at least, and even kids enjoy the experience.
Address: Narvavagen 13–17, Stockholm.
E-mail: webb@historiska.se
Website: www.historiska.se
Telephone: +46 8 5195 5600
Transport: Metro station Karlaplan; bus 44 and 56
Opening times: Open daily 10am to 6pm (June to August); open Tuesday to Sunday 11am to 5pm, Wednesday 11am to 8pm, and closed Mondays (September to May).
Admission: Free