Stockholm Archipelago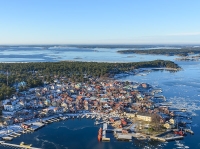 Stockholm Archipelago, Sweden © Arild VÃ¥gen
The city of Stockholm stretches across 14 islands, but the archipelago, of which they form but a tiny part, consists of more than 24,000 islets, famed for their natural beauty, wildlife, fjords and spectacular channels and straits. A highlight of any visit to Stockholm is exploring this unique natural wonderland, whether independently or on one of the many organised boat tours on offer.
The standard tour is the 'Thousand Island Cruise', lasting about 11 hours, which takes you to the outer islands and allows passengers to spend time on some of the larger islands, like Nämdö, renowned for its handicrafts. Those with less time to spend can opt for a shorter cruise from between two to six hours, or travel on the high speed 'Cinderella' waterjet boats that service many of the islands. Do-it-yourself travellers can make use of the regular Waxholmsbolaget ferries that service the inhabited islands.
Bed and breakfast accommodation is available for those seeking a longer getaway and perhaps wanting to stay a few days to experience island life. Although most visitors opt to cruise the archipelago in the summer, there are winter cruises available that showcase the area's nature in a unique way.
Address: Archipelago tour information is available from the Tourist Centre, Sweden House, Hamnagatan 27
Website: www.stockholmtown.com