Casa Loma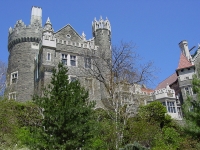 Casa Loma © nicblockley
Casa Loma is the only full-sized castle in North America. Formerly the home of Canadian financier, Sir Henry Pellatt, the massive structure is a wonderland of secret passageways and elaborately decorated rooms. Pallet used his immense personal fortune to build the chateau, though financial troubles meant he could not sustain it. Today, the City of Toronto owns the castle and welcomes a daily influx of guests. Visitors enjoy touring the authentically furnished rooms and splendid gardens, and drinking in the stunning views of Toronto from one of the castle's towers.
Address: 1 Austin Terrace
Website: casaloma.ca/
Telephone: +1 416 923 1171
Transport: From Dupont station, walk to Spadina Ave and Davenport Rd, then climb the Baldwin Steps to the castle.
Opening times: Open daily, from 9.30am to 5pm
Admission: C$30 (adults), C$20 (children aged 4 - 13). Other concessions are available.