Royal Ontario Museum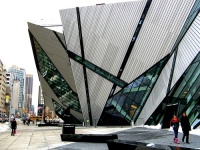 Royal Ontarion Museum © Randy OHC
The Royal Ontario Museum treats visitors to displays of art, culture and nature from around the globe and across the ages. It ranks as one of North America's premier cultural institutions, and is Canada's largest and most comprehensive museum. Its 40 galleries and exhibition spaces house 13 million artworks, cultural objects and natural history specimens, including dinosaurs, galleries of Chinese art, a bat cave, a gem and gold room, exhibits on Ancient Egypt and Nubia, and the Samuel European Galleries. Visitors will not be disappointed.
Address: 100 Queen's Park
Website: www.rom.on.ca
Telephone: +1 416 586 5682
Transport: Museum subway station, or Avenue bus #5 from Eglington station
Opening times: Open daily, from 10am to 5.30pm
Admission: General Admission: C$20 (adults), C$14 (children aged 4 - 14). Other concessions are available.