Victoria & Alfred (V&A) Waterfront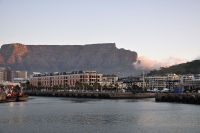 V & A Waterfront, Cape Town © Simisa
This working harbour, historical site, and shopping development has become one of Cape Town's most visited tourist attractions. The Waterfront offers everything from shopping malls and crafts markets, to live music and a variety of festivals throughout the year. It's also home to more than 70 eateries, ranging from pubs and fast food outlets to five star restaurants. Those who fall in love with the Waterfront will be glad to know that there are several luxury hotels in the area. What's more, travellers can stroll down to the harbour to gaze upon the numerous boats and ships upon the waves. Those who want to experience the thrill of sailing out of the harbour into the open ocean can choose from a variety of boat trips and harbour cruises. Helicopter charters leave from the waterfront as well. These include sunset booze cruises, whale-watching trips, and even a pirate galley that throws themed outings. The Two Oceans Aquarium is an impressive and celebrated institution and houses an impressive array of life from the oceans surrounding the Cape Coast.
The aquarium is a must for those travelling in Cape Town with kids, but adults will also find themselves entertained. The V & A Waterfront is situated in a beautiful and central location, all the while under the watchful guard of the iconic Table Mountain.
Website: www.waterfront.co.za
Transport: MyCiti buses service the V & A Waterfront.