Al Masmak Castle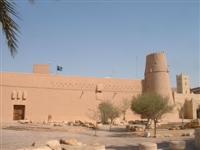 Al Musmak Castle © Baptiste Marcel
The clay and mud brick fort of the Masmak Fort is an important landmark and heritage site in the centre of Riyadh. Built around 1865, the site is associated with the foundation of the Saudi Arabian kingdom as the original stronghold of King Mohammed bin Abdullah bin Rasheed. The castle was the setting of the Idn Saud's legendary raid in 1902, where a spear was hurled at the main entrance with such force that the head is still intact in the main arch. Visitors can explore its impressive rooms, pillared mosque, gate, watchtowers, and well.
Address: 3153 Al Thumairi St, Ad Dirah, 6937
Website: www.arriyadh.com/ar/Tourism/Left/Musems/getdocument.aspx?f=/openshare/ar/Tourism/Left/Musems/hoson.doc_cvt.
Telephone: +966 11 411 0091
Opening times: Sunday to Thursday 8am-12pm, 4pm-9pm, Friday 4pm-7.30pm, Saturday 9am-12am