Hallgrimskirkja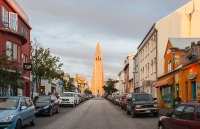 Hallgrimskirkja, Reykjavik © Diego Delso
One of the tallest buildings in Iceland, this landmark church dominates the city from its highest point and is visible on a sunny day from up to 10 miles (16km) away. Named after the 17th-century Icelandic poet, hymn composer, and clergyman Hallgrimur Petursson, the church's unusual design includes volcanic basalt columns flanking its towering steeple. It took more than 40 years to build the edifice, which was finally completed in 1986. In front of the church stands a statue of Leif Eriksson, donated to Iceland by the United States. The church is lovely inside but even those uninterested in exploring this place of worship will be impressed by the striking facade. It is possible to climb the tower for views over the city.
Address: At the end of the Skólavörðustígur
Website: www.hallgrimskirkja.is
Telephone: 510 1000
Transport: Landspitalinn bus stop is a short walk away.
Opening times: Daily 9am-5pm (October to April) and 9am-9pm (May to September). Closed during Sunday mass.
Admission: ISK 1000 for adults, ISK 100 for children