Gulf Islands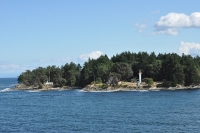 Gulf Islands © BCIT School of Business International Exchange Program
Tucked in the Strait of Georgia are the picturesque Gulf Islands. Home to artists and writers, many Vancouverites escape to holiday homes tucked away in the rainforest. Large parts of the islands have been designated as marine parks, preserving the land for the numerous endemic birds and animals that call the island home. Many of the islands host events and festivals each year, alongside a healthy art and shopping scene.
Bowen Island is only a 20-minute ferry ride from West Vancouver's Horseshoe Bay. Visitors can enjoy a stroll from Snug Harbour past the historic Union Steamship Company or take a walk in the Crippen Regional Park.
Galiano Island is the second biggest of the group and is about the size of Manhattan. Only 50 minutes away on the Tsawwassen Ferry on the Lower Mainland, Galiano Island draws all sorts of visitors who come to picnic in Bellhouse Park, take walks through the lush rainforest up to Bluffs Park or indulge in a spot of fishing, kayaking or a round of golf.
Website: www.gulfislandsguide.com