The Pampas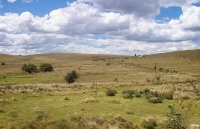 The Pampas © Roberto Fiadone
The vast flat plains of the Pampas are Argentina's agricultural heartland and the birthplace of the gaucho cowboys. Lying southwest of Buenos Aires is the location of Argentina's famous beef and grain industry, the source of the country's wealth. The area is festooned with small agricultural towns, which are home to the majority of Argentina's population.
The area provides some of the best horseback riding in the world, and excursions are available to different ranches where visitors can feast on asado after a day's horse riding. Visitors to the area can also attend a doma, a gaucho gathering held every Sunday. The domas consist of rodeo-like events, horse racing and other games and competitions, as well as a market of stalls selling gaucho-inspired crafts.
There are also some interesting animals that live only on the pampas, including the rhea, the pampas deer, the pampas fox, several armadillo species, the white-eared opossum, the Elegant Crested Tinamou, and more.