Jasper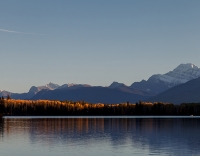 Pyramid Lake © Norton Ip
Affectionately known as 'the little town in the big park', Jasper lies in the middle of Canada's largest mountain park, the Jasper National Park, and makes a delightful base from which to explore the surrounding lakes and mountains.
The town of just over 4,000 people lies 233 miles (373km) from Edmonton and is surrounded by pristine wilderness, including a necklace of green lakes and majestic waterfalls. There are also a few notable attractions in the town itself, including the Jasper-Yellowhead Historical Society Museum, which features displays of early Canadian explorers; the 165 foot (55m) deep Maligne River Canyon; the longest and highest reversible tramway in Canada that transports passengers up Whistlers Mountain; and the Den Wildlife Museum that houses more than 100 animal specimens displayed in their natural habitat.
Driving to Jasper is relatively simple. However, harsh winter weather can sometimes make the roads impassable so check the weather reports before you go. In the surrounding areas, there are many natural wonders to explore.
Using Jasper as a base gives you the opportunity to try dog sledding, snowmobiling, cat-skiing, cross-country skiing and ice climbing in the winter. Summer activities include white water rafting, hiking, horseback riding, camping, rock climbing, mountain biking and wildlife spotting.