Parque Nacional Chiloé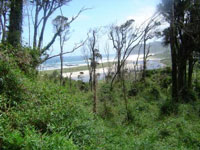 Parque Nacional Chiloe © Lin Linao
Following in the footsteps of 19th-century English naturalist Charles Darwin, visitors will find an isolated but wildly beautiful landscape of rolling hills, native forests and pristine coastline in Parque Nacional Chiloé. It is home to the Chilote fox, the rare pudú (miniature deer) and over 100 species of birds, including the Magellanic penguin.
The park offers a variety of walking trails, through forests and under twisted tepú trees, along miles of unspoilt coastline or along nature trails that lead up onto the hills for superb views of the surrounding area. One of the draws of the hiking trails in Chiloé is the wide selection of short hikes, making it a good activity even for novice hikers, but there are also epic hikes for those who want to walk long distances. The park is also home to several Huilliche Indian communities, and visitors can find information about the traditions and folklore of the Huilliche people, as well as displays on the flora and fauna of the area.
This amazing wilderness area is only 18 miles (30km) west of Chonchi and 34 miles (54km) west of Castro, making it easily accessible. The area receives a huge amount of rain year round, so visitors should be sure to come prepared.
Website: www.parquechiloe.cl