Piton de la Fournaise Volcano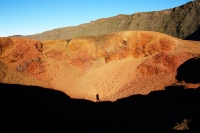 Piton de la Fournaise Volcano © Pierre Guinoiseau
Reunion's volcano last erupted in 2016 and is currently one of the world's most active, along with Kilauea in Hawaii. The volcano is spectacular and is one of the island's principal attractions, rising 8,565 feet (2,611m) above sea level. High cliffs, deep craters, le grand brûlé (the burnt slopes) and lava streams create a stunning scene. In the past, lava streams have flown into the sea, destroying the main highway along the way. Eruptions usually occur within the caldera and therefore pose little threat to people.
The walk to the summit takes roughly five hours and it is well worth finding out in advance about weather forecasts as cloud cover can roll in quickly, preventing hikers from being able to make the climb. An alternative way to explore the area is by helicopter, although this is naturally a more expensive option.
Saint Paul, former capital of the island, is the closest town to the volcano and has a lovely street market (on Friday afternoons and Saturday mornings), two miles (3km) of black-sand beaches, fine examples of traditional Creole houses, a seaside cemetery and other historic sites.