Eureka Tower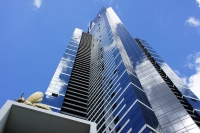 Eureka Tower, Melbourne © Jan Mark Holzer
The Eureka Tower is the tallest building in Melbourne and the tallest residential building in the world, standing at just over 984ft (300m) tall, and offering 360-degree views over the city. There is a public observation deck on level 88, the Skydeck, which affords visitors with a head for heights a testing experience: a chance to be suspended above the city in a glass cube (The Edge) that juts out from the building by 10ft (3m) to hang out over the city far below. On entry into the cube, the glass is frosted and moves out over the edge of the building, but as soon as the cube is in place the glass unfrosts to the sound of smashing glass, revealing the city far below. The Edge is not included in the Skydeck Experience and requires an additional payment, but it is definitely worth it for those wanting extreme views!
Address: Riverside Quay, Southbank
Website: www.eurekaskydeck.com.au
Telephone: (0)3 9693 8888
Opening times: The Skydeck is open daily, from 10am to 10pm; The Edge may be closed in certain weather conditions.
Admission: Skydeck: A$20 (adults), A$11.50 (children 4-16). The Edge: A$12 (adults), A$8 (children). Other concessions and group tickets are available.