Tashi Lhunpo Monastery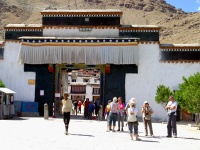 Tashilhunpo Monastery © B_cool
Tashi Lhunpo is one of Tibet's most revered and influential monasteries, lying about a mile (2km) to the west of Shigatse at the base of Drolmari Mountain. Founded by the First Dalai Lama in 1477, it became the seat of Tibet's second most important spiritual leader, the Panchen Lama, in 1713. The monastery today houses about 800 monks in its 3,229 square foot (300 sq m) of muraled buildings.
The oldest section is the main chanting hall that houses the throne of the Panchen Lama. The tallest section is the Maitreya Chapel, which contains the world's largest brass statue of Maitreya. The seated figure is 86 feet (26m) high and decorated with gold, pearl, amber, copper, coral, diamonds and other precious stones. It's said that it took 900 craftsmen nine years to complete the statue.
There are other treasures such as the remarkable Thangka Wall, which is nine floors high and used to display massive images of Buddha on important days in the Tibetan Lunar Calendar.
Address: 7 Jijilangka Road, Shigatse
Website: www.tashilhunpo.org