Mount Everest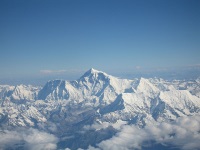 Mount Everest © shrimpo1967
The Shigatse prefecture is the gateway for climbers to the North Col route of the world's highest mountain. The ultimate climber's challenge, Mount Everest towers at 29,028 feet (8,848m) on the border between Tibet and Nepal. Access to the Everest Base Camp is via the town of Tinggri. About 20 miles (30km) from the town, climbers embark on a 48-mile (78km) trek to the first camp.
About six miles (10km) from the base camp is Rongbuk Monastery, the highest monastery on earth at an altitude of 16,728ft (5,099m). The monastery is continually being restored and offers hostel accommodation. Just south of the monastery is the world-renowned Rongbuk Glacier.
Because of its height, adventurers wishing to climb Mount Everest will need to allow several weeks simply to acclimatise to the thin atmosphere. Climbing Mount Everest is not to be attempted without the aid of a guide, and should only be tackled by extremely experienced climbers. Numerous travel agencies offer package multi-day hikes around the area and up to the Everest base camp.