District Six Museum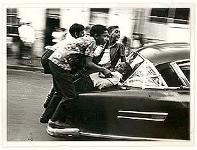 Life in District Six © District Six Museum
Until the 1960s, District Six was a vibrant district of Cape Town located close to the city centre and the harbour. The community was originally established as a mix of freed slaves, merchants, artisans and immigrants, and developed a unique multiracial character. In 1966, the government declared District Six a 'whites only' area under the Group Areas Act and over 60,000 residents were forcibly moved to the outlying Cape Flats, a barren area several kilometres away, while most of their homes were flattened by bulldozers. Communities and families were uprooted and torn apart, and this moving museum serves to safeguard the memories and the spirit that was District Six. The venue was originally established as a place where ex-residents could meet and support one another, but is now a fascinating little museum. It houses an impressive collection of old materials, including photographs and relics such as street signs, many of which were donated by former residents.
The museum also offers a guided tour of the area led by an ex-resident. It is a poignant way to learn about District Six as it used to be. These tours must be booked in advance via the official website listed below. It is also possible to wander into the museum off the street and take a self-guided tour.
Address: 25A Buitenkant Street
Website: www.districtsix.co.za
Telephone: 021 466 7200
Opening times: 9am to 4pm Monday to Saturday. Sundays by appointment only.
Admission: R30 (adults), R5 (children).