Two Oceans Aquarium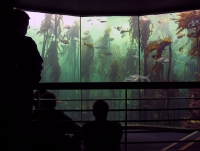 Two Oceans Aquarium, Cape Town © Borisgorelik
The Cape sits at the meeting place of the Atlantic and Indian Oceans, and over 3,000 sea animals from both oceans are showcased in the aquarium. They highlight the diversity of marine life found in the waters around Cape Town. The Two Oceans Aquarium is one of the city's top attractions and visitors of all ages will be interested in the variety of exhibits. They include the Predator Exhibit, which features large sharks and rays, and the mesmerising Kelp Forest Exhibit. Animals such as seals, penguins and turtles, and thousands of different fish are on display too. It is also possible embark on dives in specific tanks. Advanced booking is required, divers must present dive qualifications, and the privilege does carry an additional charge. The Shoreline Cafe at the Aquarium boasts lovely views of Table Mountain and the harbour, and has a children's play area, making it an ideal place to have refreshments. However, visitors are spoilt for choice because the aquarium is located at the famous V & A Waterfront, which is crammed full of great restaurants.
It is special to be able to stroll along the harbour after visiting the aquarium, and boat trips out into the open ocean can be arranged from there.
Address: V&A Waterfront
Website: www.aquarium.co.za
Opening times: Daily 9:30am to 6pm
Admission: R160 (adults), R115 (children 14-17), R75 (children 4-13). Tickets valid for the day.