FC Barcelona Museum and Stadium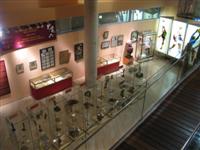 FC Barcelona Museum ©
FC Barcelona, one of Europe's most beloved football teams, has an informative museum with displays of photographs, documents, memorabilia, and trophies, covering over a century of club history. Visitors also get the opportunity to explore the famous stadium on the Camp Nou Tour which takes fans to the heart of the club, the changing rooms, tunnel and Nou Camp pitch. With a panoramic view of the stadium from the grandstand, visitors can get a taste of the heady atmosphere of a FC Barcelona match on their home ground. The museum also has an official store where club jerseys, caps and accessories can be purchased. Be sure to check the tour schedule as game days do disrupt the timetable. It is actually best not to make your visit on a game day because some parts of the stadium will be restricted and you may miss out. Exploring the stadium allows fans to make informed decisions about which seats to book if they are attending a game. If you are lucky you may well see some of the FC Barcelona players in the complex. There are discounts for booking online via the official website listed below.
Address: Avenida Arístides Maillol
E-mail: oab@fcbarcelona.cat
Website: www.fcbarcelona.com
Telephone: +34 902 18 99 00
Transport: Line 3 metro to Maria Cristina
Opening times: Open from Monday to Saturday 10am-6:30pm (till 8pm from 6 April to 4 October). Open on Sundays and public holidays 10am-2:30pm. Tours not available on days of league and Champions league matches, but the museum is still open until 3pm.
Admission: Museum visit and Camp Nou Tour: €26 (adults), €20 (children). Concessions available.