Willis Tower (Sears Tower)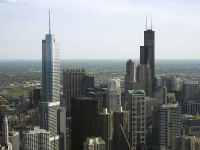 Sears Tower © Chad Kainz
'You haven't seen Chicago until you've seen it from the Skydeck' is what many visitors will hear from locals and other tourists in the city. The iconic Sears Tower was renamed on 16 July 2009 to the 'Willis Tower', but the old name is still commonly used. Located on its 103rd floor, the Skydeck is 1,353 feet (412m) above street level and one of Chicago's most famous tourist attractions. Elevators whisk visitors up to the observation deck where the views stretch out across the city and Lake Michigan, and as far as neighbouring states on a clear day. The Skydeck is completely transparent, so that visitors look straight down through the floor. Inside, there are some interactive exhibits and computer information terminals for a tour of the city's landmarks. The Willis Tower, standing at 110 storeys high, is the tallest building in North America and one of the tallest in the world.
Address: 233 South Wacker Drive; entrance on Jackson Boulevard
Website: www.theskydeck.com
Opening times: Open daily 9am-10pm (April to September), 10am-8pm (October to March).
Admission: $24 adults, $16 children 3-11. Combo tickets and special deals are available.