Millennium Park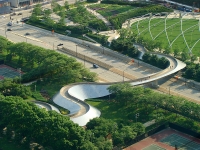 Millennium Park © Torsodog
Millennium Park is one of Chicago's most popular destinations and is seen by Chicagoans as the crowning glory of their city. The award-winning park is famous for its innovative architecture and landscape design, featuring the work of several prominent artists, architects, and designers. The park's most outstanding feature is the state-of-the-art outdoor concert venue, the Jay Pritzker Pavilion, which seats more than 4,000 people and hosts regular concerts. Another fascinating piece of architecture is the polished stainless steel Cloud Gate, shaped like a 66-foot (20m) long bean with a 12-foot (4m) high archway. Other interesting features include the Crown Fountain, the Lurie Garden, BP Bridge, and the Millennium Monument. Visitors can also enjoy changing exhibitions, local art works, and ice skating in winter.
Address: 201 E Randolph Street
Website: www.millenniumpark.org
Opening times: Daily 6am-11pm.
Admission: Free