Adler Planetarium and Astronomy Museum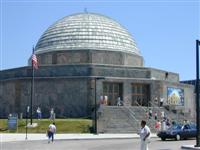 Adler Planetarium and Astronomy Museum © Fritz Geller-Grimm
Located on Lake Michigan, the Adler Planetarium is America's oldest planetarium and boasts a number of theatres. Inside its doors, visitors and locals alike have marvelled at the heavens since 1930. There are also numerous exhibits at the Adler, from design labs to ancient astronomy, the interactive Mission Moon experience to an engaging walk through the history of the cosmos. The Adler hosts many special lectures and events and a visit is an absolute must for stargazers. It is a good family attraction in Chicago as the shows enchant all age groups and much of the programme is carefully designed for children.
Address: 1300 S Lake Shore Drive
Website: www.adlerplanetarium.org
Telephone: (312) 922 7827
Opening times: Open daily 9.30-4pm.
Admission: $19 adult, $8 children, other package deals available