Adler Planetarium and Astronomy Museum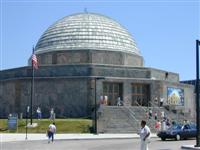 Adler Planetarium and Astronomy Museum © Fritz Geller-Grimm
Located on Lake Michigan, the Adler is America's oldest planetarium, and boasts two full-size planetarium theatres. Visitors and locals alike have marvelled at the night sky in the historic Sky Theatre since 1930. It now feature the all-digital StarRider Theatre which is the first of its kind in the world and affords a virtual outer space experience in its 55-foot (17m) wide and three-storey high area. The Adler is also home to numerous exhibits including antique astronomical instruments dating back to 12th-century Persia as well as fun interactive displays. The Adler hosts many special lectures and events and a visit is an absolute must for star-gazers. It is a good family attraction in Chicago as the shows enchant all age groups and much of the programme is carefully designed for children.
Address: 1300 S Lake Shore Drive
Website: www.adlerplanetarium.org
Telephone: (312) 922 7827
Opening times: Open daily 9.30-4pm.
Admission: $12 adult, $8 children, other package deals available