Boston Museum of Fine Arts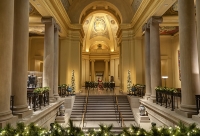 Boston Museum of Fine Arts © Bill Damon
An artwork in itself, the Museum of Fine Arts in Boston houses some of the most famous European paintings in the US. Boston's oldest, largest, and best-known art institution, the MFA's collection is one of the planet's most comprehensive, with something like 22,000 artworks including masterpieces by some of the finest artists in the world. With a striking collection of Impressionist paintings, Egyptian sculptures, and a moving exhibition of Japanese and other Asian artworks, visitors should make sure they have ample time to explore the exhibition rooms of the MFA. Have a break and enjoy a coffee or lunch at one the three gallery restaurants or browse the outstanding museum bookstore and shop.
Address: 465 Huntington Avenue
Website: www.mfa.org
Opening times: Saturday to Tuesday 10am - 5pm; Wedensday to Friday 10am - 10pm.
Admission: $25 (adults). Concessions available.