Jardin des Plantes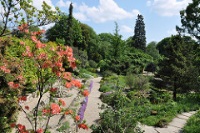 Jardin des Plantes © Celine
The Jardin des Plantes is France's main botanical garden. Covering 28 hectares (280,000sq m), the garden was originally planted by Louis XIII's doctor in 1626 as a medicinal herb garden. In 1640 it became Paris's first public garden. In 1739, after a long period of decline, the gardens were greatly expanded and a maze called the Labyrinth was added. It still exists today. Currently, in addition to being a lovely green lung in the city, the Jardin des Plantes maintains a botanical school which constructs demonstration gardens and trains botanists. The massive grounds house the Natural History Museum which is one of the main attractions for visitors. There is also a small zoo, founded in 1795 to house part of the royal menagerie from Versailles, and now containing small animals in simulated natural habitats. The gardens boast tropical hothouses that are home to a variety of unusual plants, native mostly to Mexico and Australia, and there is also an Alpine Garden, a beautiful Rose Garden, and an Art Deco-style Winter Garden. There is lots to see in the garden and visitors can wander for hours.
Address: Blvd Henri IV, Quartier Montpellier Centre Montpellier 34967
Website: www.jardindesplantes.net
Telephone: 01 40 79 56 01 10
Opening times: Daily 7:30am to 8pm (summer); 8am to 5:30pm (winter).
Admission: Free. Some special gardens or exhibitions carry admission fees.