Seattle Aquarium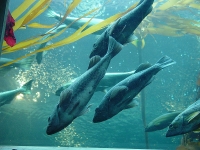 Rockfish at the Seattle Aquarium © merelymel
Located on the waterfront, the Seattle Aquarium provides a window into the amazing marine life of the Pacific. The Underwater Dome is one of the largest exhibits, providing 360 degree views of creatures like sharks, sturgeons and skates while Marine Mammals features cute seals and sea otters. Touch pools contain animals like sea stars and urchins while live dive shows take place three times a day. Other exhibits at the Seattle Aquarium are Life Of A Drifter, Puget Sound Fish and Tropical Pacific. The aquarium has a big focus on environmentalism, taking care to educate visitors about marine conservation, while also hosting events for kids and Halloween.
Address: 1483 Alaskan Way, Pier 59
Website: www.seattleaquarium.org
Telephone: (206) 386 4300
Transport: Waterfront Streetcar Line Bus
Opening times: Daily 9.30am-5pm, exhibits close at 6pm.
Admission: $35 adults, $25 children 4-12, free for children 3 and under